A slew of fans' favourite superhero shows are set to return in 2019, while others saw their demise in 2018. We catch you up with the status of the shows as the new year begins.
There have never been as many TV shows focused on superheroes as there are now, and that's great news for geek fans. From the ever-expanding Arrowverse to the more slowly developing Marvel TV universe, there's something for everyone (as long as you're a fan of the Big Two in the comics industry, that is).
Where did our shows leave us and when can we expect them to return in 2019? We break it down for you here. Mild spoilers ahead.
The CW Shows
The CW has been home to a host of DC Comics properties for years now, particularly the Arrowverse which expanded from one show, Arrow, to three more spin-off shows.
The majority of the Arrowverse ended 2018 with the Elseworlds crossover, which was epic, and we can expect the Arrow, The Flash and Supergirl to return to normal following the events in the three-episode arc. With the timeline now rectified and the villain behind bars,the superheroes can go back to fighting their regular nemeses when the shows return on January 15, 2019.
'Elseworlds' also introduced a new superhero, Batwoman, who is set to get her own show this year, though we have yet to get a release date on that. This is one show fans will be desperate to see (we know we are).
DC's Legends of Tomorrow, another Arrow spin-off,did not participate in the crossover this year, but had an epic mid-season finale nonetheless. After destroying the time-stream, John Constantine helped Charlie the shape-shifter get things back on track for the Legends in the finale, which also revealed a massive twist. But fans will have to wait till April 2019 to find out what happens next as the show is on a very long hiatus.
Black Lightning is a non-Arrowverse show that taps into similar DC Comics properties. Following a strong first season, Black Lightning returned with a harder-hitting and even more politically charged second outing. The mid-season finale also set up the introduction of a new hero and a massive setback for one of the main characters that will have fans eagerly anticipating the conclusion to the story when the show returns on January 21, 2019.
Neflix
The Marvel Netflix shows suffered a major blow in 2018 with the cancellation of the team-up show The Defenders, then Iron Fist, Luke Cage, and shockingly, the very popular Daredevil. No word yet on Jessica Jones and The Punisher, but it seems that their next seasons will likely be their last.
The Punisher's second season will be released in January 2019 with many sources confirming the appearance of the Punisher's arch-nemesis Jigsaw as one of the season's villain. Most of the cast from the first season will be reprising their roles with new additions set to join the team.
Jessica Jones season three will be released some time later in the year but we have no precise date for it yet. Season two was a particularly strong outing for the character, with a major focus on the female relationships in Jessica's life. The ending of the season was quite a shocker and it will be interesting to see how Jessica handles the changes her life has undergone. Hopefully there will also be more sensitivity towards inclusive characters, something the show was criticized for in its second season.
DC Universe
DC's own streaming service made a splash this year with the release of Titans, a dark and gritty live-action adaptation of the beloved Teen Titans comic series from the 80s. The show started off poorly and picked up part way through, ending on a surprisingly strong note. We at Digital Fox have been sharing regular updates from the show, but this is not an easy series to get to, mainly because DC Universe is limited to viewers in the US.
However, Titans is set to appear on Netflix internationally, starting January 11. A second season has also been ordered, and is set to film in February with a release date sometime in 2019.
Alongside Titans, DC Universe will also be debuting the Titans spin-off show Doom Patrol on February 15, 2019, something we're excited for as we loved the 'Doom Patrol' episode in the show. Another live-action series on DC Universe is Swamp Thing, set for release in May. A live-action Stargirl series has also been announced, and cast, with a debut date in 2019.
DC Universe is bringing back the highly anticipated third season of Young Justice: Outsiders, which will premiere on January 4 on the platform. No word yet on where international audiences can view it. The animated adventures will continue in the Harley Quinn series, also to be released in 2019.
Disney+
Following in DC Universe's footsteps, Disney, who owns Marvel properties, will be creating their own streaming platform in 2019. The platform will host several Marvel Cinematic Universe spin-off shows including a Loki series, a Scarlet Witch series, and a Falcon and Winter Soldier series.
Needless to say, fans are out of their minds with excitement for the announced series and the potential to see more of their favourite MCU characters on screen again. Many of the characters being given their own shows were killed by Thanos' snap in Avengers: Infinity War.
As expected with all things Marvel, plot details are strictly under wraps, as are the release dates, but that only helps to add to the anticipation. Unfortunately, international fans will be disappointed to learn that, like DC Universe, Disney+ will also only be available in the United States. Hopefully some other networks and streaming platforms will be able to broker a partnership to get these shows to international viewers.
Other Networks
Agents of Shield has been going from strength to strength after a lackadaisical first few seasons. The fifth season was its strongest yet, transporting the main characters to space and the future. The show also made a bold choice by killing off a main character and sowing the seeds for the demise of another protagonist. It will be interesting to see where it goes on its return for season six in 2019 and how it will tie into the post-Thanos snap world.
On Hulu, Marvel's Runaways season two was a much better outing for the young heroes, with a far more complex and political storyline than in its first season. The show has been renewed for a third season and we can most likely expect to see it at the very end of 2019.
The Freeform show Marvel's Cloak & Dagger captivated audiences in 2018, and was praised for its representation, strong story-telling, and the excellent chemistry between its protagonists. It wasn't long before the show was renewed for a second season, which will be released sometime in 2019.
Though there has been talk about Cloak & Dagger crossing over with Runaways, something the casts of both shows are very keen on, there has been no confirmation of it, and it might be difficult to execute considering the different platforms the shows exist on.
After a thrilling first season, the X-Men property Legion continued to wow audiences with its second season and was instantly renewed for a third, which will be released in 2019.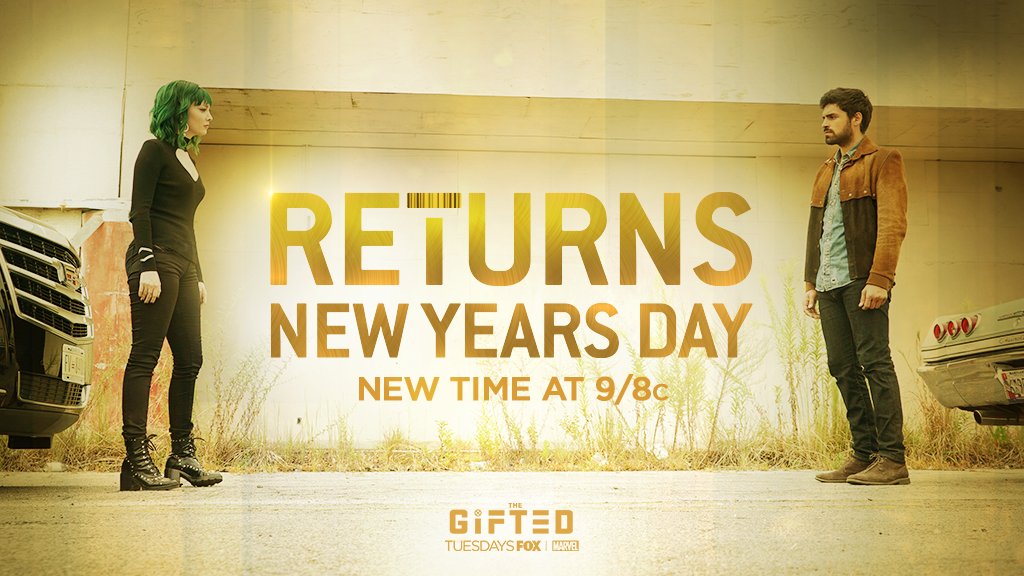 Another X-Men off-shoot, Fox's The Gifted, has been steadily improving. After a patchy first season, the show's second outing has got political and been given a bigger budget for better effects. The show ended 2018 with a strong mid-season finale and fans will be excited for the next chapter of The Gifted when it returns on January 1, 2019.
Moving to DC Comics, Gotham was almost cancelled in 2018 but a last-minute change saved the show, giving it a fifth and final season. The show was also given a further extension to end on a solid 100 episodes part way through last year, and will be released on January 3, 2019. All signs point to a time-jump from the end of season four to the start of next season, with most of the characters returning to reprise their roles. Though Gotham has not been a favourite among DC Comics fans, the show has had excellent storylines and a fascinating cast of characters.
Syfy's Krypton proved to be a surprise hit when it debuted in 2018, giving fans of the Super-verse a new perspective on Superman and Supergirl's home planet of Krypton and its denizens, the Kryptonians. The show has since been renewed for a second season which will be released in 2019. As of now, there is no chance of a crossover between Krypton and the Arowverse shows, but fans are still holding out hope for it. After all, 'Elseworlds' had its share of Smallville references, and even brought back John Wesley Shipp's Barry Allen from the 1990's The Flash.
DC Comics fans will feel some trepidation for two new shows set to air in 2019 – Pennyworth on Epix, that follows the adventures of young Alfred Pennyworth, better known as Bruce Wayne's butler, and HBO's Watchmen TV series. There is also word of a Secret Six show, but very little information is available.
As of now, DC is coming off as a major winner in the race for comic-related content on TV. They have a vast amount of material out there, both live-action and animated, and it is consistently of good quality. However, DC Universe's lack of availability is an annoyance to many, and it will be interesting to see how fans react if they have to wait much longer for shows like Titans and Young Justice.
Though the loss of the Marvel Netflix shows will continue to sting, if Disney+ finds a way to distribute their new MCU material to international audiences, Marvel are bound to win over a large number of fans. Meanwhile, the quality of Runaways, The Gifted, Cloak & Dagger, and Legion continue to impress, and if they manage to keep their standards high, viewers will have much to entertain themselves with.
Either way, one thing is for sure, fans of DC and Marvel clearly have a lot to look forward to in 2019.