Despite mixed reactions and fan apprehension, DC Universe's Titans is finally here, and it's chockfull of Easter Eggs!
DC Universe's Titans is loosely based on DC Comics' The New Teen Titans, but with a modern, darker twist. Similar to the comic books, Dick Grayson, aka Robin (Brenton Thwaites), will become the leader of a team that includes Starfire (Anna Diop), Raven (Teagan Croft) and Beast Boy (Ryan Potter).
The first episode was more of a slow-burn than we would have liked but had a refreshing enough plot. It may not be to everyone's liking but we are going to give it a chance. Especially considering the DC Comics Easter Eggs we noticed throughout the episode.
Here are our favourite Easter Eggs from the premiere of Titans. Spoilers Ahead!
1 – Raven's Necklace
In episode one, Rachel has yet to earn her comic book moniker Raven, but she does possess one accessory that is a definite throwback to her comic book costume – the jewel in her necklace.
Titans fans will immediately recognize the bright red jewel as the same one Raven's comic book counterpart wears on her forehead, or around her neck, depending on the comic book run.
And, eagle-eyed fans would also have noticed the familiar peak of Raven's hoodie, which she wears for a majority of her screen-time. Talk about comic book accuracy!
DC Universe have confirmed that Raven will eventually get a comic book accurate suit, and the jewel will likely play a large part in that evolution.
2 – Amy Rohrbach
Our introduction to Titans' Dick Grayson is through the new partner he has been assigned at Detroit Police Department – Amy Rohrbach, played by Lindsay Gort. Grayson-stans will know this name.
Back in the 1990s, when Dick Grayson joined the Blüdhaven Police Department as a beat cop, his partner was Amy Rohrback. She eventually became Dick's superior but has since disappeared from the DC Comics universe.
Rohrback was one of the rare non-superhero characters to know Dick Grayson's alter ego as Nightwing, and kept his secret even after he turned in his badge at Blüdhaven PD. Could this be a portend of Rohrback's future arc on the show? Time will tell.
3 – Starfire's Dress
Unlike Dick Grayson's heroic introduction in Titans, Starfire's entrance borders on ignominious. She wakes up in a crashed car beside a dead man.
We have yet to learn what happened to Starfire the night before but it was obviously quite wild! The hotel concierge who speaks to Starfire can barely look her in the eye. Interesting.
During the remainder of Starfire's appearance in the first episode, she has no time to change out of last night's party clothes. And, even though her clothes are nowhere near her comic book suit, the striking electric purple is definitely reminiscent of Starfire's original purple costume from the comics.
DC Universe have also confirmed that Starfire will be getting a suit during the show. One can only hope that they update her costume because Starfire has a long history of overly-sexualised outfits, even when she was a teenage character.
4 – Dick's Former Partner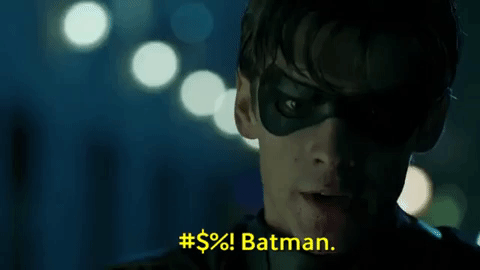 Before learning anything else about Grayson, Rohrbach is told by colleagues at the Detroit PD about Grayson's dislike of partners. There are also jabs about something happening with Grayson's previous partner. We all know who that was – Batman.
In Titans, Dick clearly has issues with his former mentor/partner. During the premiere episode, he explains to a curious Rohrbach that his partner was a good person, considered a hero by many, including him. But Grayson explains, without revealing Batman's name, that his partner always sought to fix the world's problems with his fists, which led to Dick leaving him – he was afraid he was "becoming too much like him".
This backstory is similar to the current DC: Rebirth ethos where Batman is letting his former Robin take on the mantle of Nightwing because of his fear that the Robins will become too much like him. It also ties into Brenton Thwaites' recent IGN interview, where he mentions that Robin in Titans left Batman because 'he was a killer'.
It will be interesting to see how far Titans will go to explore the complex relationship between Dick and Bruce Wayne.
5 – A Comforting Hand
When Rachel is brought to the Detroit PD, Dick, who specializes in working with children, is sent to speak to her. Initially, Dick doesn't believe Rachel's story, even when she pleads with him to help her. At one such point, Rachel reaches out to Dick, her soul-self makes contact, and she sees Dick's memory of the night his parents died at the circus.
In the memory, a devastated young Dick looks tearfully on as the police examine his parents' bodies. A hand appears on his shoulder and a calming voice tells Dick that he will take care of him. Anyone who knows Robin's origins will put two and two together and make Bruce Wayne.
Though Wayne's face is unseen, his presence is strongly hinted at in Titans. However, it is unlikely that we will see Batman in anything but fleeting memories or silhouettes in this show.
The first episode of Titans promised plenty of DC madness, setting up a series where fans can expect much more mayhem, alongside more fantastic Easter Eggs.