The first reviews of Black Widow are beginning to trickle out across the internet. Worldwide premieres of the highly anticipated (and highly delayed) film took place on Tuesday. As of 29th June, the film stands with an 85% rating on Rotten Tomatoes, with many praising its all-star cast and action sequences. This film will mark Marvel's return the cinemas since the pandemic broke out in 2020, which only adds pressure for it to perform well.
I dodged the spoilers so you didn't have to, which means I can now present a spoiler-free roundup of people's initial reactions. None of these opinions are my own, just the general consensus of what has been posted online.
Core Themes
The film is said to achieve its mission of being a solo film for Scarlett Johansson's Black Widow, but that doesn't mean her co-stars don't have a chance to shine. David Harbour's Red Guardian brings much-needed comedic relief and steals many of the scenes he's in. However, the theme of family, and in particular the sisterly relationship between Natasha and Yelena, shines through. Audiences are made to care about each of the characters and invest in their stories. It has a spy-thriller feel to it and is more in tune with Jason Bourne, James Bond than other MCU projects. Although, it has been compared to Captain America: The Winter Soldier in terms of genre and theme.
The whole story is apparently rooted in drama, which adds depth to some of the action scenes. Although, some sources have said that the action scenes lack depth making this an entirely subjective point.
Grounded in Reality
Natasha's past, the history of The Red Room and Taskmaster, the villain, are all said to be what grounds this movie. At this point in the MCU, we're used to seeing space portals and different planets every other scene. Black Widow is a chance to bring audiences back to the roots of the MCU.
A few critics noted that this film would have been better served releasing years prior to now, but it's common knowledge that Marvel was slow to green-light this project.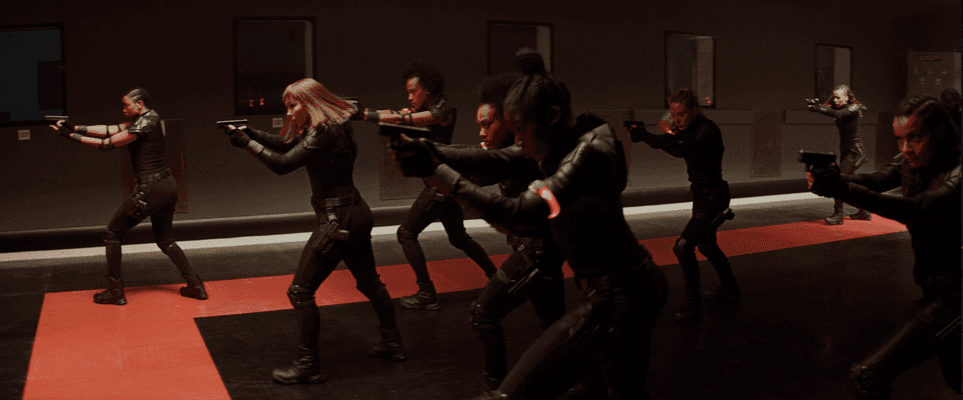 Hit and Miss Action
Whilst there is plenty of praise for the action sequences in this movie, opinions will always differ. Critics seem divided, especially where the third act is concerned. Some sources have said that Black Widow provides some of the best and most realistic action in the MCU, with amazing hand-to-hand combat. Others say that the third act in particular felt lacklustre. Many have pointed out noticeable CGI, but that doesn't take away from the underlying story. The action can apparently be seen as forgettable, blending into an unmemorable montage.
The overall consensus on this seems to be that there's a good blend between emotion and action.
Post-Credit Scene
It's confirmed that Black Widow does have a post-credit scene. These have become a staple of MCU movies, so we would all be disappointed to hear otherwise. But, the real news is that many people are raving about the scene, saying that it has huge implications for the future of the MCU.
Considering that this film is the first cinema instalment of Phase Four, nobody knows what to expect when it comes to setting up for future projects.
Darker Storytelling
The film apparently uses some proven storytelling methods and falls into some common practises of the MCU. But, that doesn't stop it from standing out to prior projects. In a cinematic universe as vast as this, it's becoming more and more difficult for each new TV show or movie to find its place amongst the masses. There's pressure to make each film bigger than the last, but Black Widow seems to stand out by taking a step backwards. Many have said that there are darker tones to the movie, adding some more grit to the MCU.
Stand-Out Cast
Scarlett Johansson's Natasha Romanoff has been in the MCU since Iron Man 2, which released in 2010. As a well-established character, there was no doubt that she could carry a movie on her own. But, this film introduces a whole host of new characters and it would have been easy for some of them to sink into the background. There has been particular praise for Florence Pugh's performance as Yelena and the way she interacts with Johansson's character on-screen. Both David Harbour and Rachel Weisz have also been commended for their roles and family chemistry.
Lacklustre Villain
There is plenty of praise out there for Taskmaster, but there are conflicting reviews that say he never reaches his full potential as a villain. This film is supposed to be Natasha's story, so perhaps that means some of the focus is taken off Taskmaster as a nemesis. Some have said that the third act lacks a proper stand-off, but could this possibly be something we have come to expect from MCU movies now? After Thanos vs the Avengers perhaps audiences are constantly expecting something to match this. But, I can't comment until I've seen it myself. Critics have said that Natasha is protected by plot armour, but I can't share what that armour is whilst avoiding spoilers.
Roundup
After huge delays, it seems that Black Widow will provide the thrilling action that we've come to expect from MCU movies. But, this time there's a darker edge to the story. Family seems to be at the core of this story and the chemistry between the actors isn't to be overlooked. Perhaps this will make up for what could be a lacklustre villain, but you can never please everybody. Whilst the vast majority loved the movie, a few didn't.
Black Widow releases in cinemas and on Disney+ on July 9th. When you see it, you can form your own opinion!