Since an intriguing Ryan Murphy Instagram, American Horror Story theories are running rampant. But which is the most likely?
Since Ryan Murphy (sort of) confirmed that all 7 seasons of American Horror Story are connected, fans of the show have been producing countless theories in an attempt to figure out how exactly the seasons are intertwined.
Some of the theories are pretty wild, and are clear examples of fans running away with their imaginations. But others actually make some sense. Here are a few of the craziest – and oddly plausible – fan theories.
1 – Dante's Inferno Parallel
Of all the American Horror Story theories floating around, this is arguably the most plausible.
The theory – first introduced back in 2014 by Red Henry – focuses on Dante's Inferno, the first part of Divine Comedy.
Dante's Inferno focuses on the nine circles of hell: Limbo, lust, gluttony, greed, anger, heresy, violence, fraud and treachery. And the theory suggests that American Horror Story is actually a modern re-telling of Dante's epic poem. In Dante's Inferno, each circle of hell features a punishment that correlates to the sinner's crime.
Is the theory plausible?
In this case, yes. It's easy to correlate each season to one circle of Dante's hell.
Season One (Murder House) featured a house haunted by deceased inhabitants, and took the definition of limbo to the extreme.
Season Two took place in an asylum, where almost every patient had been falsely admitted – therefore relating to the circle of fraud.
Season Three's Coven of witches embodied treachery, as they fought mercilessly to become the next supreme. Similarly, season four's Elsa Mars became the definition of greed, as she stopped at nothing to claim the fame she felt she deserved.
Season Five featured a hotel bursting with gluttony due to addiction.
Season Six, arguably the most brutal season, featured a group of ghosts whose anger destroyed every single character.
The most recent season revolves around a politically charged cult, led by Kai Anderson and his impassioned speeches; this easily links to heresy.
In addition to the evidence, Ryan Murphy seems to have endorsed the theory, sharing it on Instagram with the caption: 'interesting'.
2 – The Wood Witch from Roanoke is the Original Supreme
Cast your mind back to Season Six: Roanoke, and the image of Lady Gaga as the Wood Witch.
Now, get past the idea that the Wood Witch is eerily similar to the Blair Witch, and think about where we've seen witches before… does Season Three's Coven come to mind?
A lot of people on the internet made that connection too, and went as far as to say that the Wood Witch is the original Supreme.
Is the theory plausible?
Possibly. The Wood Witch is portrayed as an all-powerful being, which does conform to The 7 Wonders featured in Coven.
However, there is a major plot hole with this theory: The Supreme must die for a new Supreme to take her place.
Some fans have argued that, since each witch has her own distinct ability, the Wood Witch could have the power of immortality.
3 – Elsa Mars is Sister Jude
This is one of the slightly wilder theories popping up on the internet. Some fans have theorised that Season Four's Elsa Mars ran away from her Freak Show and became Sister Jude in a somewhat bizarre turn of events.
Fans of the theory argue that it's not as crazy as it sounds, since there are a number of similarities between Jessica Lange's characters – namely, similar mannerisms and the fact that the timeline adds up.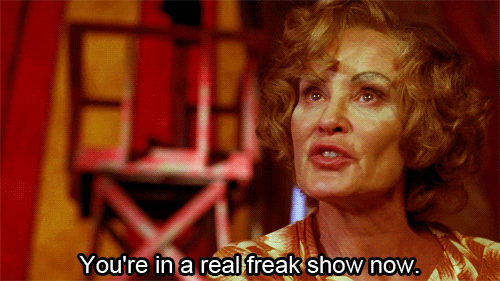 Is the theory plausible?
Not really. Whilst fans aren't wrong about the timeline, or the subtly similar mannerisms, there is very little evidence to back up the theory.
At the end of Season Four, we're led to believe that Elsa Mars was taken to the afterlife by Edward Mordrake – a ghostly hater of Freak Shows – as a kind of penitence for her sins.
In fact, the end of the finale practically spells this out for us. So the idea that she somehow escaped a supernatural being is unlikely.
In addition, there is the issue of legs: Elsa Mars had her legs amputated during a snuff film, but Sister Jude still has her legs. Some may argue that she simply has very good prosthetics, but this seems unlikely given the era.
4 – James March killed Doctor Montgomery's son
Initially, this theory seems quite bizarre. But, if you think about it, it does actually make sense.
It suggests that James March, psychopathic owner of the Cortez Hotel, kidnapped and dismembered Dr Charles Montgomery's son. Fans of the theory argue that Dr Montgomery (king of botched abortions in Season One) aborted James March's child, and March retaliated.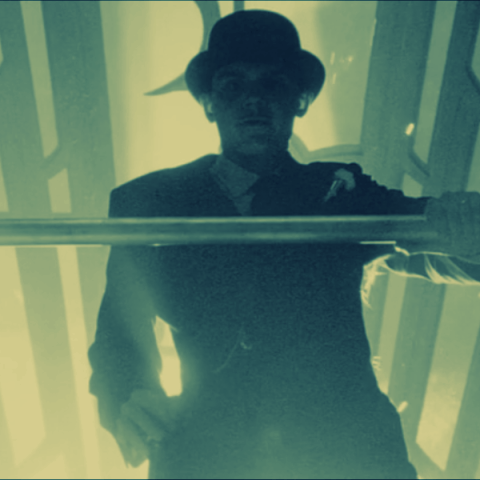 Is the theory plausible?
Surprisingly, yes. Although it initially seems like a desperate attempt to connect Season One and Season Five, there is some evidence to back up the theory.
We see the Countess in Dr Montgomery's office, and we know that she and James were involved, and that he was madly in love with her. We also know that James March was a complete psychopath, so it seems plausible that he would want revenge on the doctor who aborted his baby.
Plus, it was revealed in Season One that Montgomery's son was kidnapped by a disgruntled boyfriend of one of his patients.
5 – Freak Show is a comic book
Some fans have speculated that the events of Season Four did not actually happen in the American Horror Story universe. This theory suggests that the entire season was actually based on a comic book, with Twisty the Clown as the misunderstood villain and Edward Mordrake as the creepy supernatural punisher.
This leads to the theory that Dandy Mott, wannabe killer clown, created the cult in the 1950s. Is the theory plausible?
Actually, yes, it kind of is. In the beginning of Season Seven, Oz is seen reading a comic book about Twisty the Clown. In the Cult universe, Twisty is seen as nothing more than a dark comic, and is clearly successful since Winter later buys Oz a figurine of Twisty.
The idea that Dandy created the cult is slightly less plausible, but it could be argued that he created the comic books as a warped form of propaganda.
Of course, we won't know if any of these theories are accurate until American Horror Story ends for good. But, until we have all the answers, it's certainly fun to theorise!
If you love American Horror Story, check out these 10 other creepy shows on Netflix.